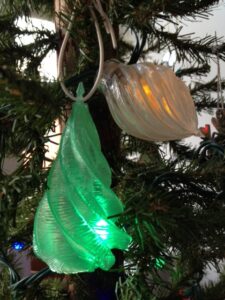 Okay, so the boys and girls haven't been nice.  However, that shouldn't exclude you from having some fun holiday hacking.  Join us this Sunday at Hive  for either of these workshops:
3D Printed Ornaments
1:00 – 5:00 PM
Want to witness 3D printing live?  Join David Morfin and Leslie Birch for this festive workshop where you can choose from a variety of ornaments to print (including an epic Star Wars snowflake).  Then, hack it here with a battery and LED to get it glowing.  Tour our space and enjoy holiday snacks at the same time!
Price:  $10 Collected at door
Remote Controlled Car Hack
1:00 – 5:00 PM
Learn how to turn almost any toy RC vehicle into a simple robot.  Because most RC toy vehicles are incredibly similar, you can easily learn how to hack them.  We'll teach you some of the theory behind these circuits and then we'll help you put it into practice.  A cut here, a jump there, a microcontroller and a little code and — voila! — you will be the proud creator/owner of a small-but-evil robot, just in time for XMas.
We will have microcontroller kits and cars available if you need them, or you are free to bring your own.  If you bring your own controller, we would recommend that you bring an Arduino or an MSP430 Launchpad.   If you bring your own vehicle, just make sure is has a TX2/RX2 chip (as a suggestion, the Thunder Tumbler is one of my favorite bot platforms).
Prices: Based on car and will be collected at door
Base Price — Donation for materials etc. in whatever amount you feel is appropriate
Large Car — $20
Medium Car — $15
Small Car — $5
Micro-controller kit — $5 (MSP430 Launchpad)