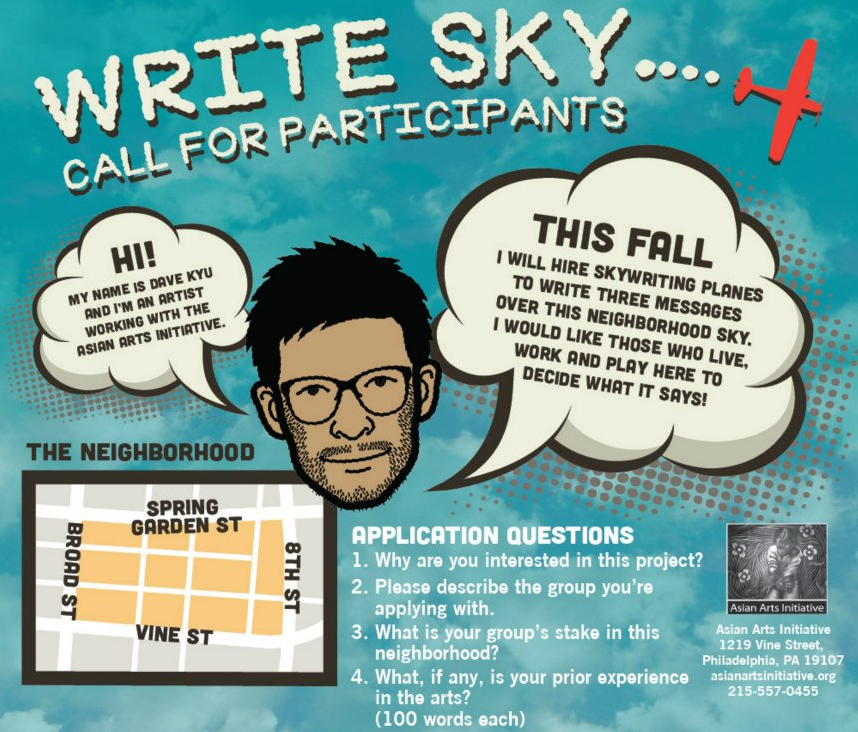 When I saw  this poster on the right in the lobby of our studio building I thought it looked neat, but it wasn't until the mastermind Dave Kyu visited that Hive76 was convinced to participate in WriteSky. Well, he mostly convinced me, as I ended up as the only contributor, but I am glad that Hive76 was able to host the collaboration meeting with our fellow group, artists that work in 319 N 11th St, members of Grizzly Grizzly and Tiger Strikes Asteroid.
We met on one Wednesday open house to figure out exactly what message we would write over our neighborhood. I don't have a lot of history collaborating with other artists, but after the experience I had using Dave's process and the smart 319 Artists Mary Smull, Jacque Liu, Sarah Kate Burgess, and Jaime Alvarez, I am looking forward to my next collaboration. It was a pleasure brainstorming, discussing, and compromising to come up with what we think is the perfect sentiment to be written in the sky for a few minutes. What message is that?Ah, but ours and the two other collaborative groups' messages are secret up until the actual writing. We want it to be a surprise.
If you can make it this Saturday, please come to The Eraserhood at 11:30am and look up. Weather permitting, you'll see three wonderful messages written in vaporized canola oil over the Philadelphia skyline. It will be visible for about 15 miles, but the best view will be directly underneath. If you see the writing in the sky, tag it with #WriteSky and it will appear on the page: http://writesky.com/photos/
Keep looking up!