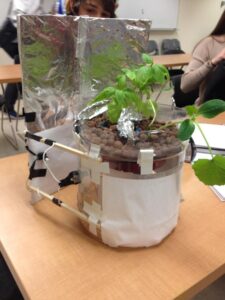 On Tuesday April 28th Chris Anderson will be instructing a lecture and demo on Hydroponic and Aquaponic gardening. If you are interested in learning alternative farming and gardening techniques this class will introduce a more environmentally friendly process for growing your own produce. Generally, the hydroponics approach is beneficial because although the initial costs are higher, on a long term outlook the process is exponentially less expensive. Hydroponics also takes up to 50% less land use, therefore is much less intrusive to the environment, minimizing clearing of woodlands and soil degradation. The soil-less process of hydroponics also uses up to 90% less water and up to 60 % less fertilizer and pesticide use.
Join Hive76 members to learn more about how you can build your own sustainable farming/ gardening hydroponic or aquaponic system. The instructor will be providing the Basic items for the wicking system being built but please bring any supplies you have that may enhance the design. Chris Anderson will help guide the class in how they can optimize their gardening system with their suggested materials, exploring the creative possibilities in using recycled products. That class will cost $8, CASH ONLY. For more information check out the class in the Hive76 Calendar. Please comment below if you are interested and will be attending. Can't wait to see you there!
Take a tour of Chris Anderson's classroom design.
The materials for the class are as follows:
2L or 3L soda bottle(s)
Old white t-shirts/towels (washed)
Aquarium/fish-tank air-pump, tubing, air-stone
tin-foil
Gravel (any size)
Geolite, Vermiculite, hydrocorals
plastic planter cups
empty plastic squeezable condiment bottles
plant seeds
zip-ties
caulk, silicon, caulk-gun
pipe cleaners
construction paper
aquarium lid with florescent light
power-strip; plug in timers
straws, tubing (any sizes)
Sources:
https://ecopostblog.wordpress.com/2014/07/14/the-environmental-benefits-of-hydroponics/