At Makerfaire in NYC this Saturday, Hive76 will be running a race to test the quality and speed of any 3D printers that would like to participate.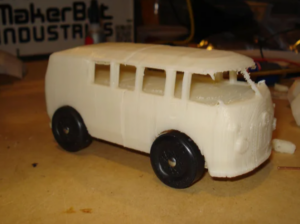 We will have an announcement and official start in the 3D Printer village at noon on Saturday. But the basic premise is this:
We will announce and post a 3D model on this page.
Racers will download and print the model in any material
The model will need to fit on a metal part and hold water
The first part to hold water without leaking for 5 minutes wins!
The prizes: a Math Watch by eagleApex (me) and a file to print your own trophy!
In summary, printing an accurate, water–tight part quickly will be a good balance of those three 3D printing goals.
Besides this 3D printer vs Man race, I think this is the first race of it's kind! I hope you participate and I'll see you there.
Update: